The Changing Face of the Wine Business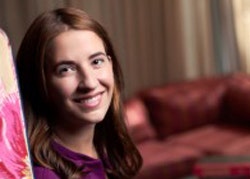 One of the many things I love about the wine business is its changing face. The old men with ascots are thankfully being replaced.
Instead, it's becoming a co-ed world that's younger and way more exploratory.
I'm thrilled this is happening!
Take Master Sommelier Laura Maniec. The Wall Street Journal called her the "It Girl" of the New York wine scene, Crain's New York Business honored her as one of their "40 Under 40," Food & Wine magazine named her one of 2013's "Sommeliers of the Year" and Wine Enthusiast included her in their list of "Top 40 Tastemakers Under 40."
Hello!
And the best part is you still want to hang out with her, especially at her wine bar, Corkbuzz, which has a huge emphasis on education and offers drop-in classes.
I got to spend some quality time with her in the studio and asked her to bring two of her go-to wines.
And typical of her generation, she brought unexpected grapes.
The first was a orangey-white made from the Malvasia grape called Bianca Regina from the Lusenti vineyard in northern Italy.
And the second — the El Dorado Grenache by Donkey and Goat.
So try to match the grapes, taste with us, listen to her motivational story and celebrate the new youthfulness of the wine world.
Cent' Anni.
Your suggestions and comments are welcome at @tracybyrnes or tracy.byrnes@foxbusiness.com.
For my previous Wine With Me podcasts and articles, just go to http://foxnewsradio.com/winewithme. For my Wine With Me articles and videos, please visit http://foxnews.com/winewithme.