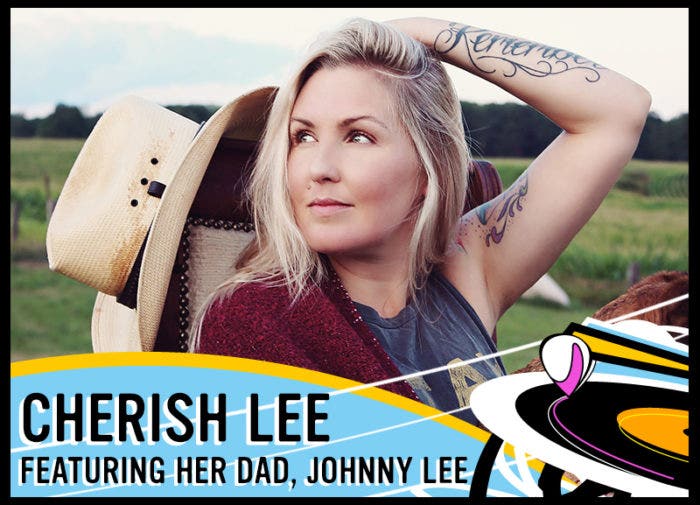 This week the feisty and uber-talented Cherish Lee joins the podcast and reveals what it was like growing up with her famous parents. Her daddy Johnny Lee, who's also featured in this episode was a legendary honky-tonk hero and her mother Charlene Tilton, was the sexy siren who turned heads and broke hearts on Dallas, one of biggest television shows of all time.
Subscribe and download on your favorite podcast platform: Apple Podcasts, Google Play, Tune In, Stitcher.
In this episode, Cherish tells some great stories including the time her father gave her a famous Martin guitar, which she promptly painted with glitter nail polish. You'll hear Johnny Lee describe what it was like raising his little songwriter/poet and hear the pride in his voice as he talks about his daughter following him on stage and into this often uncertain profession.
Cherish reveals that even though she had the backing of her famous dad, she's still suffered her share of set-backs in the music industry, but perseverance and drive along with a winning personality have kept her dreams alive.
Cherish talks about how she made her latest album, Tequila Cowgirl for just 15-hundred bucks, a sum so low it doesn't seem possible by today's standards. But as she says, "where there's a will, there's a way" and Cherish is not the type who's gives up easily. This "can do" attitude serves her well as she carves out a new career in Nashville while raising her young son with her husband, Chase Christopher.
Robert K. Oermann hosts this interesting look at an up-and-coming artist with the series producer Brad Newman by his side. As you'll hear in this episode, Cherish Lee is a real spitfire who's poised to take the country music industry by storm.
Like us on Facebook. Follow us on Twitter and Instagram. We want to know what you think. Pitch us an artist, or simply spread the word and find out more about the series. #childrenofsong