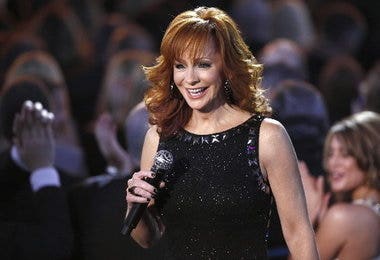 George Jones' life story will get the silver screen touch, Hunter Hayes goes deluxe and Reba McEntire is a jet setter.
FOX News Radio's Entertainment Correspondent, Sabrina Sabbagh has the scoop on the Country music stars making headlines this week:
FOX Country.
I'm Sabrina Sabbagh. A feature film is in the works about the life and career of George Jones.
George Jones: "He stopped loving her today…" (music)
His wife Nancy says the film depicts the late singer's status as a country music legend while battling his personal demons. Jones had been actively involved in the project prior to his death in April at 81.
George Jones: "Who's gonna fill their shoes…" (music)
Hunter Hayes is out with a new album, sort of. It's a deluxe version of his debut album called "Encore".
Hunter Hayes: "I want crazy…" (music)
The new version includes cuts with Jason Mraz and Ashley Monroe and features eight new or re-recorded tracks, including the 21 year-old singer's current top ten country single 'I Want Crazy'.
Reba McEntire: "That's why I keep on loving you…" (music)
Reba McEntire does a lot of traveling. So it makes sense that she would have her own plane. The singer telling JetSet Magazine that owning a plane has lengthened her career by a decade because she can do so many more things to promote her career in between jobs.
That's FOX Country from FOX News Radio.
Follow Sabrina on Twitter: @SabrinaSabbagh