FOX in the Fast Lane: Toyota / Save Mart 350 (Sonoma)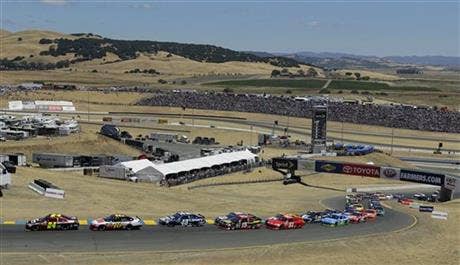 The Sprint Cup hits the road for the road course of Sonoma and the Toyota / Save Mart 350. NASCAR's saying goodbye to Jason Leffler. Plus, a driver is facing theft charges.
FOX News Radio's Marghiee "Trackside" Teshineh has more in this edition of "FOX In The Fast Lane":
FOX In The Fast Lane.
Greg Biffle thinks he has a good shot at Sonoma's road course this weekend as long as he:
Biffle: "Can stay on the course, keep the transmission and the brakes on the car."
Clint Bowyer says winning last year at Sonoma was special because it was his first year and first win for Waltrip Racing and:
Bowyer: "Really kind of set the standard for capping off a great year. We finished second in points, won three races."
Over 800 people including Tony Stewart, Kasey Kahne, NASCAR President Mike Helton and team owner Chip Ganassi attended the funeral service for driver Jason Leffler who died last week in a crash during a dirt track race in New Jersey. The 37 year-old Leffler leaves behind a five year-old son.
And, driver Mike Harmon turned himself in to North Carolina police after warrants were issued for him and a business partner for allegedly stealing vehicles from truck racer Jennifer Jo Cobb.
FOX In The Fast Lane. I'm Marghiee Teshineh, FOX News Radio.
Follow Marghiee on Twitter: @LadyTrackside