George Jones Remembered at Opry Funeral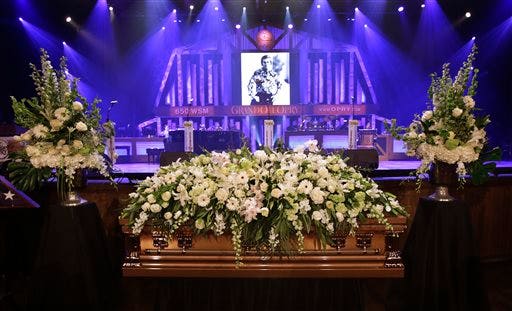 Thousands turned out in Nashville to say goodbye to a country music icon during his day-long, star-studded funeral.
FOX News Radio's Sabrina Sabbagh reports:
More than 3,000 admirers got a seat inside the Grand Ole Opry house, but fans who weren't in Nashville for the ceremony were still able to celebrate the country icon – the funeral was broadcast by eight TV stations, two radio networks and even streamed live online.
(Alan Jackson singing)
Alan Jackson paid tribute to George Jones by singing one of his most famous songs.  Also taking the state at the Opry: Charlie Daniels, Kid Rock, Alan Jackson, Brad Paisley and Wynonna Judd.
(Wynonna Judd singing)
Speakers at the service included former First Lady Laura Bush and former Arkansas Governor Mike Huckabee.
Sabrina Sabbagh, FOX News Radio.