Who's Gonna Fill Their Shoes?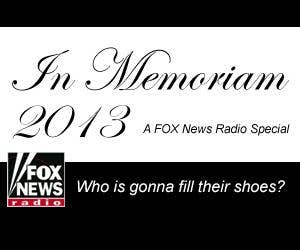 That was the question asked by the great country singer George Jones. He was one of the many notable people we lost during 2013. In a one-hour special filled with music, movie clips and archival audio, FOX News Radio looks back at the famous and infamous people who died this year.
Listen to "Who's Gonna Fill Their Shoes?" hosted by FOX News Radio's Hank Weinbloom:
CLICK HERE to VIEW 2013: The Year in Photos
CLICK HERE for the FOX News Radio special 2013: A Year To Remember
You May Be Interested In...