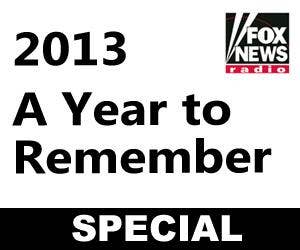 This year was full of news stories that captivated the nation and the world. From the Boston Marathon bombing and the manhunt that followed, to the harrowing stories of three kidnapped Cleveland women, missing for a decade and finally found, Syria's chemical weapons, Iran's nuclear program, the acquittal of George Zimmerman in the murder of Trayvon Martin, a Government shutdown and the bumpy rollout of Obamacare. We'll touch on it all. Join FOX News Radio's team of reporters as we put some of the big stories of 2013 into perspective.
Listen to "2013: A Year To Remember" hosted by FOX News Radio's Dave Anthony:
CLICK HERE to VIEW 2013: The Year in Photos
CLICK HERE for the FOX News Radio special "Who's Gonna Fill Their Shoes?", 2013 In Memoriam.
You May Be Interested In...