A War Stories Salute To The USO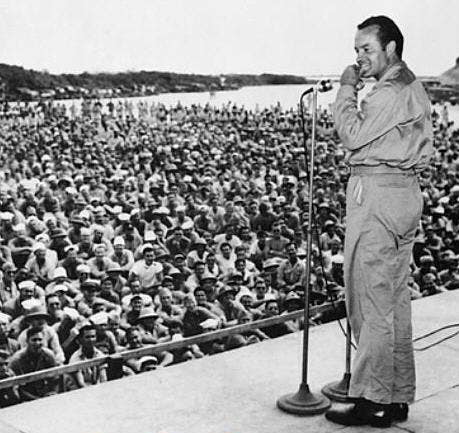 In this special edition of "War Stories with Oliver North," come along for an insider's tour of the historic USO (United Service Organizations). Oliver North travels from Hollywood to Washington D.C. to the battle zones inside Iraq to bring you the USO in action. Up close and in person, you'll hear stories from entertainers of all eras who have traveled to these dangerous areas for more than 60 years to give service and smiles to our troops.
North talks with Hollywood icons and musical legends such as Mickey Rooney, Johnny Grant, Connie Stevens, Ann-Margret, Wayne Newton, Bo Derek and Bob Hope's son, Tony. They share their recollections of performing from steamy islands in the South Pacific to the jungles of Vietnam, to bases all over the world.
Plus, acclaimed actor Gary Sinese sits down with North to share his pride in working with the USO since being inspired by the events of September 11, 2001.
Then, hear how rocker Joan Jett tells of her dedication to performing for the troops in places that "aren't cushy."
The USO was formed in 1941 at the request of President Franklin Delano Roosevelt to support the rapidly growing number of troops. A private, non-profit organization, the USO would provide many services, from organizing dances to building the USO centers that have become the soldier's "home away from home."
Finally, you'll find out how the USO has survived some lean times, including being temporarily disbanded in the late 1940s. In the years that followed, the need for the USO never again waned. The services the USO provides have brought much needed support to our military men and women for over six decades.