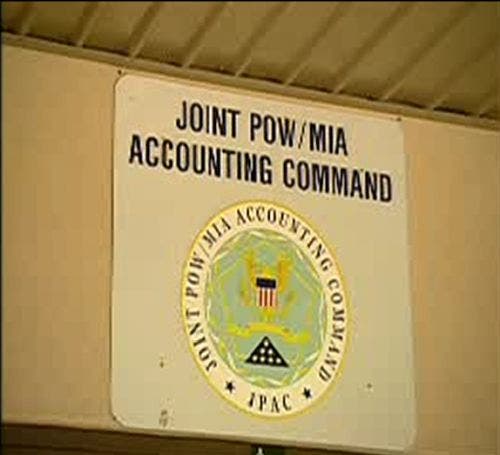 "Leave no one behind." It's a sacred promise our military makes to all who serve in uniform.
To keep that pledge, in October 2003 The Joint POW/MIA Accounting Command – JPAC – was created by President George W. Bush with the mission of finding and bringing home America's missing in action – no matter where or when they were lost.
I'm Oliver North, and in this War Stories podcast you will meet members of a military unit unlike any other in the world. The Pentagon dubbed it – "JPAC" – The Joint POW-MIA Accounting Command. In 2010, in between deployments to Iraq, Afghanistan & other hot spots, our FOX News War Stories team was dispatched to document how JPAC accomplished their unique military mission.
We began at JPAC headquarters at Hickam Air Force Base in Hawaii, where 18 teams of specialized investigators, forensic scientists and active-duty military personnel were based when not deployed around the globe.
These JPAC teams had a daunting task: traversing trackless deserts, snake infested jungles, remote mountain ranges and ocean depths to recover, identify & return to their loved ones the remains of missing U.S. Soldiers, Sailors, Airmen, Guardsmen & Marines.
Success for JPAC required cutting-edge forensic technology, age-old detective work and sometimes the skill of explosive ordnance technicians.
In this riveting podcast of "War Stories," come with us as we accompany JPAC search and recovery teams on high-risk missions; meet scientists devoted to the task of identifying the remains of those who have fallen; and hear the powerful account of a "mission accomplished."
Lt. Fredrick Joel Ransbottom, an Oklahoma native was declared "MIA" – missing in action – in Vietnam in 1968. Listen as his family recounts the 38 years they spent searching for answers and how a brother-in-arms provided clues to what happened to the young lieutenant.
You'll also learn how the dedicated sleuths of JPAC tackled one of the most enduring mysteries of World War II – the whereabouts of 19 Marine raiders lost on Makin Island in 1942.
In January 2015, JPAC was merged with the Defense POW/MIA Accounting Agency. Today, the grueling task of analyzing, investigating, recovering & identifying the remains of American MIA personnel continues so that the families of the missing may have closure on what happened to their loved ones.
The mission: "leave no one behind" continues…