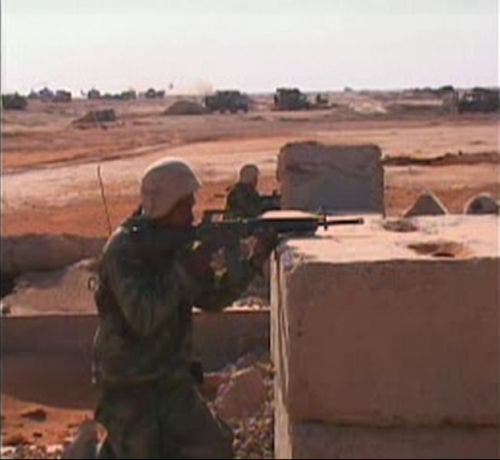 When we filed our first "sitrep" from Kuwait on Thursday, 6 March, 2003, neither my field producer nor I had the answer to the #1 question from FOX News HQ in New York City: "When will hostilities against Saddam Hussein commence?" Two weeks later we could answer the question – because we were embedded with the U.S. Marines who were the first to fight.
I'm Oliver North, and in this FOX News War Stories podcast you can join cameraman & field producer Griff Jenkins and me as we cover the opening of Operation Iraqi Freedom – from pre-hour action – and the first American combat losses, through the liberation of Baghdad and to the capture of Saddam Hussein's hometown of Tikrit.
Come with us as we keep company with America's newest generation of heroes as they topple Iraqi dictator Saddam Hussein and his bloody regime that terrorized the Iraqi people for more than 25 years.
The voices and sounds you hear in this podcast are the real thing – captured on our microphones during vicious gunfights while we were embedded with units of the 1st Marine Expeditionary Force and later with the Army's 4th Inf. Div.
On D-minus one we rode into battle with HMM 268 – the Red Dragons – commanded by Marine Lt. Col Jerry Driscoll.
His squadron of marine CH-46 helicopters was the primary cas-evac unit for Regimental Combat Team 5 – led by then Colonel "Fighting Joe Dunford – destined to become chairman of the Joint Chiefs Of Staff.
RCT 5 was the lead combat element of the 1st Marine Division – commanded by Major Gen. Jim Mattis – now the Secretary Of Defense.
In this podcast you will hear first-hand from the troops Mattis led and inspired to go further, faster & with fewer casualties than any armed force in history.
While you listen, judge for yourself, whether I was right to describe the young American Soldiers, Sailors, Airmen, Guardsmen & Marines we accompanied in this bloody contest as "the brightest, best and bravest of their generation."