The Life And Times Of Lyndon Baines Johnson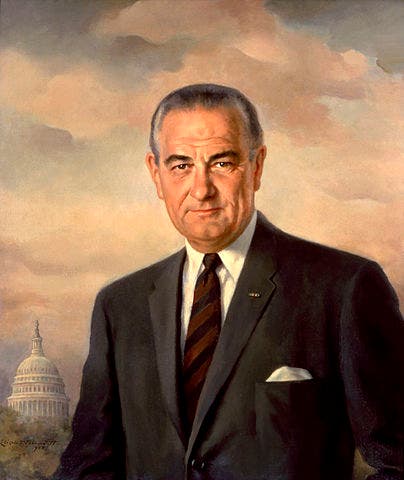 When Vice president Lyndon Baines Johnson accompanied President John F. Kennedy to Dallas in November of 1963, Johnson's long political career seemed to be over. With rumors abounding that Kennedy was going to drop him from the ticket in the upcoming 1964 election, Johnson had resigned himself to returning to a quiet life on his Texas ranch.
Then an assassin's bullet forever changed Lyndon Johnson's political fortune.
In this special biography episode of "War Stories with Oliver North," you'll see how a former Texas school teacher made a rapid ascent through the ranks in Washington to become a political powerhouse. Lady Bird Johnson's home movies will give you a behind-the-scenes look at three decades of her husband's life. Former speech writer Harry Mcpherson reflects on how Johnson pushed sweeping civil rights reforms and dramatically expanded federal social programs through a reluctant congress. And you'll hear how LBJ got what he wanted by using the legendary "Johnson treatment."
Johnson's gradual escalation of the war in Vietnam divided the country, overshadowed his domestic policies and forever tainted his administration's accomplishments. Racial violence, political assassinations and growing opposition to the war made the 1960's one of the most tumultuous decades in our nation's history. Former secretary of health, education and welfare Joseph Califano recalls how the weight of trying to lead our country through the chaos took a terrible toll on the man who envisioned America as the "great society," and gives you the inside story on the night LBJ went on national television and shocked the nation.