Foreign Dispatch: Dreadful. Dreadful It's Been!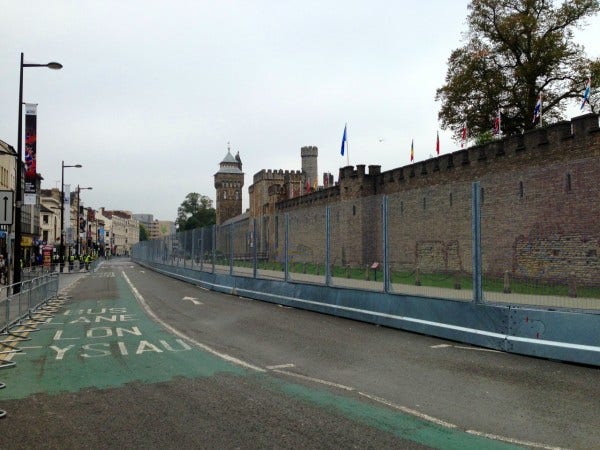 By FOX News Radio's Simon Owen in Wales:
It's 8:30am on a crisp, sunny Friday morning in Cardiff, the capital of Wales, and a small crowd has gathered downtown to watch a military flyover. 22 jets are due to pass any time now on their way to a NATO summit of world leaders, including President Obama, taking place nearby. And while we wait, people are swapping stories about the experience of having a titanic security operation turn up in your back yard.
The people of Cardiff have been, in my experience, nothing but welcoming over the course of this two-day conference, despite a flurry of road closures in the middle of their city, an influx of police armed with machine guns and the installation of giant metal fences around one of their best-known landmarks, Cardiff Castle, where leaders ate last night. When they say it's been "dreadful", they say it with a smile. It seems it's been tough getting around by bus (downtown Cardiff is wonderfully pedestrianized if you are on foot, but when the few remaining normal roads are hit by road closures for security reasons, routes have apparently slowed to a crawl), but for every frustration there's an occasional interesting sight to take in (such as President Obama's motorcade: "There must have been 30 cars," one local said. "For one man!").
20 miles outside of Cardiff, at the luxury Celtic Manor golf resort (the irony is presumably not lost on the President after all the grief he got for playing some rounds while on holiday recently), the Presidents and Prime Ministers of NATO's 28 member states are wrapping up what has turned out to be a rather more dramatic summit than it was supposed to be: it had been due to focus on finalizing NATO's pull-out from Afghanistan later this year, but after recent world events the alliance now wants to send a deterring message to Russia after the unrest in Ukraine, while on the sidelines, President Obama and his top diplomats are trying to recruit countries to a coalition mission to confront terror group Islamic State in Syria and Iraq.
Celtic Manor hosted the Ryder Cup four years ago, but golf purists would do well to look away today: there are tanks on the fairways and a fighter jet parked at the entrance, as defense companies try and sell their wares to any defense minister nearby who may have a few hundred million burning a hole in his or her back pocket.
Inside, the heads of government and dozens of others are gathered around an enormous circular table — a piece of furniture so huge and slick it would catch the eye of any decent Hollywood villain. In Cardiff, I get chatting to a man who knows someone who knows someone who was apparently involved in the building of the table (from fine Welsh oak, of course). "I just wonder what they'll do with it now," he says.
Eventually, the planes arrive, just before 9am, by which time a number of people at this impromptu gathering of a couple-hundred have had to drift away to work, and many of those who have stuck it out are wondering why they bothered: rather than a spectacular acrobatic display, we instead see the aircraft, too far away to be identified by laymen, cruise by slowly in a pretty dull formation on their way to see the world leaders up the road. "Is that it!?" one lady says with a laugh, and, at a slightly slower speed than normal, the people of Cardiff head on their way.
LISTEN to FOX News Radio's Simon Owen reporting from Cardiff, Wales: