American Dispatch: Rebuilding the Rockaways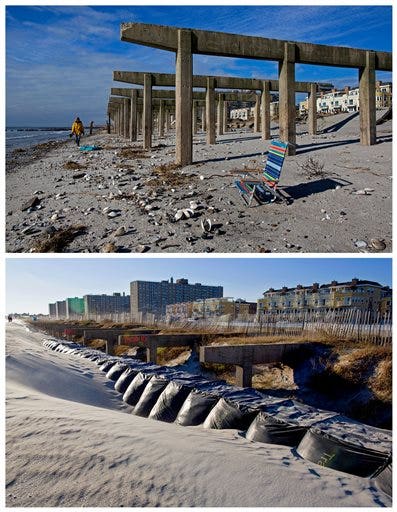 By FOX News Radio's Tonya J. Powers, reporting from the Rockaways in New York
In a year's time, a lot can happen. Seasons change, kids grow, and time marches on.
But in the year that's passed since Superstorm Sandy brought death and destruction when it struck East Coast, the people in the Rockaways are looking forward, not back.
Drive through this section of Queens, New York, and you'll see houses sheathed in yellow construction materials. Get out and walk, and you'll hear hammers and saws — the sounds of progress. And progress is a welcome sound in the Rockaways. Lines where several feet of flood waters reached homes are still visible, and there are bare foundations where some houses used to stand, but there are also homes and businesses that are under construction or already rebuilt.
As with most storms, water and wind damage are the first things that come to mind. But in the Rockaways, massive fires during Sandy also took homes, and even entire neighborhoods.
This is a common sight in the Breezy Point area. A fire took out more than 100 homes there. Without signs and other markers, it's hard to tell where to rebuild. So families take terra-cotta flower pots, fill them with bricks to weigh them down, and put an American flag in them. They then paint their family name on the outside so construction workers, etc. can find the right plot of land.
Storms are no respecter of persons. Hurricanes don't care whether you live in a multi-million dollar beach house, or a small bungalow in town. The photo above shows a home that sits on the beautiful Rockaway beach. While it was damaged, some of the neighboring homes show no outward problems. You'll also notice the concrete 'baffle wall' that's been built and TrapBags filled with sand – both to help protect the neighborhood from future storms.
For many who live in the Rockaways, the broken boardwalk with the year-old damage is a constant reminder of what hasn't been done. A large portion of it is still bare, with only concrete pilings rising up out of the beach where there used to be a place to stroll along the island.
And as with every dark part of history, there's always a ray of sunshine that serves as a reminder that things will be better. These wooden 'Stars of Hope' are one of those reminders. The stars, part of a project started by the New York Says Thank You Foundation, can be seen all over the Rockaways, adorning utility poles everywhere. Communities across the country make the stars, which have supportive words on them, like 'Joy', or 'Love' reminding people to keep high spirits as they continue to rebuild the Rockaways.
One of the people I met in the Rockaways was Mary Ellen Olsen. She was born and raised there, in the same neighborhood where she lived when Hurricane Sandy hit. She lost her home during the storm – not due to flooding or wind damage, but to fire. Mary Ellen has Multiple Sclerosis and was hesitant to leave her handicapped-accessible home. She and her family had weathered many other storms before Sandy, and they were prepared to do it again. But something else happened. I'm grateful to her for telling me her story.
Take a LISTEN:
LISTEN to FOX News Radio's Tonya J. Powers reporting:
Author's Note: Special thanks to Steve Stathis of the Graybeards for his help with my story. He was my tour guide in the Rockaways and told me some amazing stories about the people who live there. He also introduced me to some wonderful people as well, and I'm very grateful for it.