CO Transgender Student Wins Legal Fight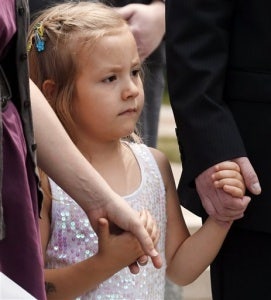 A six year-old transgender school student in Colorado has won her legal fight, to use the girls' bathroom at school.
FOX News Radio's Jessica Rosenthal reports:
Coy Mathis's parents say she used to refuse to leave the house in boys clothing and became depressed; telling them she wanted to get fixed. Now they say since they let her act and dress like a girl, she's come out of her shell. But Eagleside School still wouldn't let her use the girls' bathroom. After a legal fight, the Colorado Civil Rights Panel says Mathis was discriminated against.
Silverman: "You may no longer discriminate against transgender students. That applies to every school in Colorado. That applies to every employer in Colorado. That will of course affect transgender rights around the country."
Michael Silverman the Executive Director of the Transgender Legal Defense Fund says he knows the school could appeal the decision, but he's urging them not to.
Jessica Rosenthal, FOX News Radio.
Click HERE for more on this story from KDVR, FOX 31 Denver