John Rich: How The Success Of "Progress" Is A Comment On Where Americans Are At Today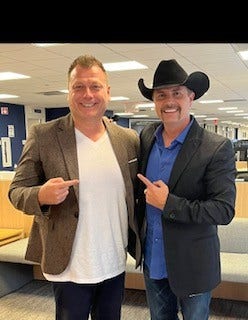 Singer, songwriter and host of "The Pursuit" on Fox Nation John Rich joins Fox Across America With Jimmy Failla to reveal what inspired him to write his new hit single "Progress".
"I wrote it because I'm so frustrated with everything going on, like everybody. But the irony struck me so hard that all these things happening to our country right now are being done under the banner of progress, of that word. I'm like, this is what you call progress? And you look on the news and you see all the terrible things happening, and this is progress to them, to the people that are doing it. I thought, okay, this deserves a song. So I set out and wrote the song, 'Stick your progress where the sun don't shine'. 'Keep your big mess away from me and mine'. 'If you'd leave us alone, well, we'd all be just fine'. 'So stick your progress where the sun don't shine'. And I put it out and I thought, well, I hope people like it. I look up and they go, hey John, you might want to check the chart. You're at number one. You just knocked Lizzo out of number one. It's pretty crazy."
John also shares his thoughts on whether former President Trump should make another run for the White House in 2024. Listen to the podcast to hear what else he had to say!