Senator Lindsey Graham: GOP Failure To Pass Tax Reform Will Put Nancy Pelosi Back In Charge & Lead To President Trump's Impeachment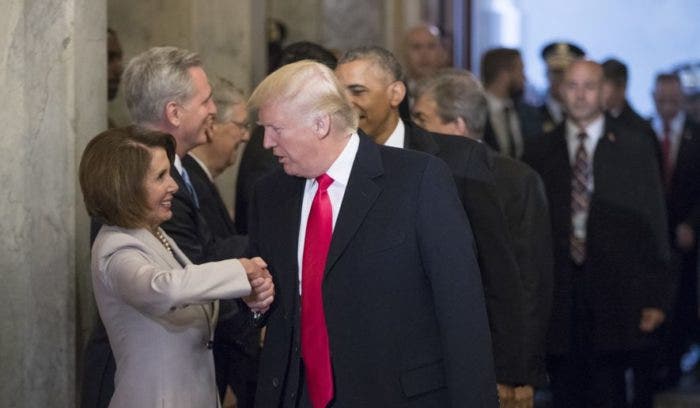 "If we fail on taxes that's the end of the Republican Party's governing majority in 2018…I can't imagine how he (President Trump) could be successful with Nancy Pelosi running the House, they'd try to impeach him pretty quick …so it's important that we pass tax reform in a meaningful way"
—Senator Lindsey Graham on the dangers for republicans if they fail to pass tax reform
Senator Lindsey Graham (R-SC) tells Brian Kilmeade if the republicans do not pass tax reform they will not just lose their majority in congress but it will also put Nancy Pelosi back as House Majority Leader which can lead to democrats impeaching President Trump. Plus, Graham discusses the latest on reports of Hillary Clinton and the DNC's connection to the Fusion GPS Russian Dossier on President Trump and the investigations of the Obama-era deal that resulted in a Russian company purchasing American uranium mines.
Listen here:
Senator Graham on how republican's failure to pass tax reform can lead to democrats taking over the majority in congress and impeaching President Trump
(Kilmeade) Yesterday the House basically took the Senate budget framework and said I'll pass it yet ten republican defections, if people listening right now wondering if tax reform is going to end up different than repeal and replace, what should they know about your approach with your colleagues?
(Graham) Well I think all of us realize that if we fail on taxes that's the end of the republican party's governing majority in 2018. We'll lose the House, probably lose ground in the Senate and President Trump has got a profile different from the party, there is two or three different republican parties now I guess but we're all in it together. I can't imagine how he could be successful with Nancy Pelosi running the House, they'd try to impeach him pretty quick and it would be just one constant investigation after another so it's important that we pass tax reform in a meaningful way, if we don't that's probably the end of the republican party as we know it.