Fox & Food: Jacques Pépin Heart & Soul in the Kitchen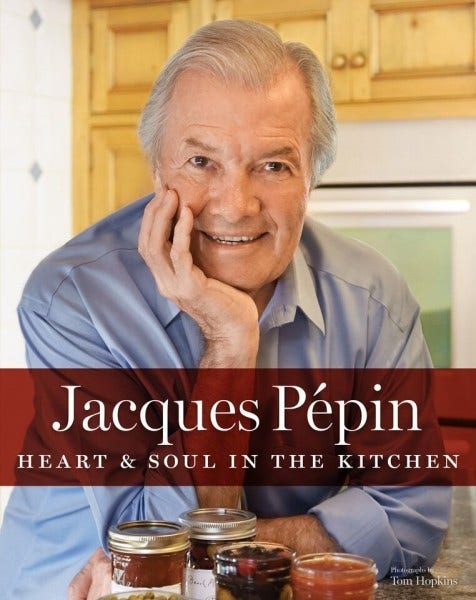 Celebrity chef and well-loved teacher Jacques Pépin chats with Fox News Radio's Lilian Huang Woo about stories from the kitchen, his family and his newest book Heart & Soul in the Kitchen–the companion book to his final series for the PBS show.
Take a LISTEN:
Eggs in Pepper Boats
Serves 4
One day I decided to cook eggs in sweet peppers with a bit of cheese and cilantro. It made a great lunch dish. I used the long, pale green peppers sometimes called banana peppers. Poblano and cubanelle peppers also work, especially if you want to add a little heat.
2 cubanelle, poblano, or banana peppers (about
4 ounces each)
1 tablespoon olive oil
4 tablespoons water
½ teaspoon salt
6 tablespoons grated cheddar cheese
4 extra-large eggs, preferably organic
¼ teaspoon freshly ground black pepper
About 2 tablespoons fresh cilantro leaves
Split the peppers lengthwise in half and remove the seeds and the stems if you want. Arrange them cut side down in a large skillet and add the oil, water, and . teaspoon of the salt and cook, covered, over medium heat, turning occasionally, for about 4 minutes, or until the peppers are softened somewhat but still firm.
Remove the skillet from the heat and, if necessary, turn the peppers over so they are hollow side up. Place the cheese in the peppers. Break an egg into each one and sprinkle the eggs with the remaining ¼ teaspoon salt and the pepper.
Return the skillet to the stove, cover, and cook over medium heat for 3 to 4 minutes, until the egg whites are set but the yolks are still runny. Transfer to plates, sprinkle with the cilantro, and serve immediately.
Follow Lilian Woo on Twitter: @LilianNY
Click HERE to listen to more FOX & Food podcasts