Lindsey Graham To Trump: If You Think Megyn Kelly Is A Bimbo, You're An Idiot!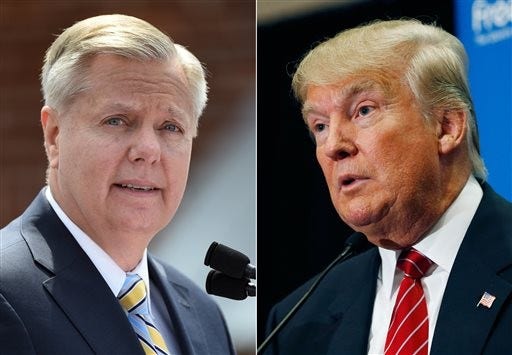 2016 GOP presidential candidate, Senator Lindsey Graham (R-SC) sat down with Brian in the Kilmeade & Friends studio. Graham took on Donald Trump's immigration policy and also challenged the rest of the republican party come together to speak out against Trump's damaging rhetoric on women and minorities.
Watch here:
Graham calls on the GOP to come together to call out Trump for his actions.
"It is cruel. It is costly. And when Reince Priebus says he is an overall positive for the republican party, he is killing . If you think Megyn Kelly is a bimbo, you're an idiot. If you think this woman is a bimbo, you're an idiot. If I were a young woman, I would be looking and saying 'hey, that's a good role model.' I wonder why we are doing bad with young women? When we attack someone like Megyn Kelly, who has the audacity to just make observations that are generally accurate, where is the leadership of the republican party? You can't tell him what to do but you have an obligation to tell people who we are. Are we the party of Donald Trump? Is it the republican party's position to come up with a plan to tear peoples families apart, illegally? Is it ok to say the guy who called Megyn Kelly, by retweeting a tweet, a bimbo, is going to be a good nominee for this party? If that's ok, you better accept the consequences of that being ok because we are going to lose!"
Are you calling on other candidates to take on Donald Trump on immigration?
"The Hispanic community is there for the taking for us. Minorities can't find jobs. The biggest loser of the Obama administration has been African Americans and Hispanics. We have a really good chance here. We have a problem with women and Hispanics. If I am elected president I promise you this, if I am a Hispanic person listening to Donald Trump's solutions and characterizations of the illegal immigrant population, who could be someone in my family, I am not voting for him. And at what point does it become about us as a party? I would love it if more republicans would say that is a very bad idea."