KILMEADE KONDENSED: [AUDIO] @SenJohnMcCain on Iraq @Cduhigg on #Habits & @TommyBarnett on his new book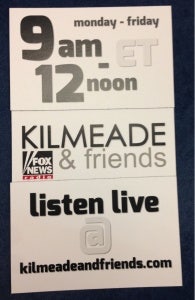 KILMEADE KONDENSED:  1/7/14
HOUR 1
MARC THEISSEN, columnist & former speech writer for President George W. Bush, joined Brian and went into detail about his recent WaPo piece How Harry Reid may help the GOP win back the Senate!  
Now in Paperback! ~ The Power of Habit's CHARLES DUHIGG stopped by the studio, and after crediting Kilmeade and Friends for helping him win the Pulitzer for his piece on Apple, and offered up some great advice on habits for people who are unemployed!
Listen to Brian and Charles talk about other fascinating examples of how habits have helped people and companies succeed!
HOUR 2
Brian spoke with the Washington Examiner's BYRON YORK talked about his most recent piece Do Democrats really want to 'fix' Obamacare? as well as the reason why Hillary Clinton attended Mayor DeBlasio's inauguration.   
TOMMY BARNETT, author of The Power of a Half Hour, sat down with Brian and explained how you can use 30 minutes in the most efficient ways! 
HOUR 3
Fresh off his Tonight Show appearance, SEN. JOHN MCCAIN (R-AZ) revealed to Brian that he is feeling better than ever!  The two then launched into an in depth discussion on all things foreign policy.
If you care at all about what is happening around the world then you need to listen to this interview!
FOX's GRETCHEN CARLSON sat down with Brian for her weekly hit on Kilmeade and Friends and the two talked to some callers about their first-hand frustrations with unemployment!