In the Oscar Spotlight: Veggies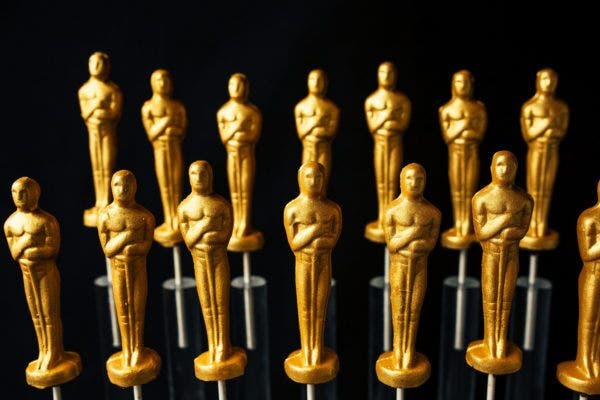 Some high-profile bashes are cutting back on meat as plant-based eats gain popularity.  Celebrity chef Wolfgang Puck, who throws the Oscars after-party and Youtube star Gaz Oakley speak to Fox News's Lilian Huang Woo.
Follow Lilian Woo on Twitter: @LilianNY
Cacio e Pepe Macaroni & Cheese
Serves 1
8oz Cavatelli Pasta
2 Tbsp Salt
2 Tbsp Butter
2 Tbsp Flour
1 ¼ cup Whole Milk
¼ cup shredded Aged Vermont White Cheddar
1 Tbsp Parmesan
¼ tsp Pink Peppercorns, toasted and ground
½ tsp Black Peppercorns, toasted and ground
¼ tsp Green Peppercorns, toasted and ground
1. Bring 2-3 quarts of water to a boil in a pot. Add 2 Tbsp of salt to the water and then the pasta. Cook for about 8 minutes or to al dente. Strain.
2. In a heavy bottom pot, melt butter and then whisk flour into the melted butter. Continue to whisk for two minutes on low heat avoiding any color.
3. Add milk to the butter and flour mixture continuing to stir until the milk thickens to a creamy consistency and coats the back of a spoon.
4. Add white cheddar, stirring to melt the cheese into the milk. Add ground pink and black peppercorns.
5. Add the pasta to the pot and stir in the Parmesan. Season to taste with salt and pepper.
6. Serve!
Red Velvet Brownie
Red Velvet Cake Batter
3 cups Cake flour
1 tsp baking soda
2 Tbsp cocoa powder
½ tsp salt
½ cup butter
2 cups sugar
1 cup vegetable oil
4 large eggs
1 Tbsp vanilla extract
1 tsp distilled vinegar
1 tsp of red food coloring
1 cup buttermilk
1. Preheat oven to 325F
2. In a large bowl, whisk the flour, baking soda, cocoa powder, and salt together and set aside.
3. Using a handheld or stand mixer fitted with a paddle attachment, beat the butter and sugar together on medium, high speed until combined, about 1 minute, scraping down the sides of the bowl with a spatula as needed.
4. Add the oil, eggs, vanilla extract, and vinegar and beat on high for 2 minutes.
5. Add in the dry ingredients in 2-3 additions alternating with the buttermilk. Add in the food coloring.
5. Chill the batter slightly (IN THE FRIDGE- HOW LONG??) About 30 minute to one hour.
Brownie Batter
4 large eggs
1 cup sugar
1 cup brown sugar
8 ounces melted butter
1 ¼ cup cocoa, sifted
2 tsp vanilla extract
½ cup flour
½ tsp kosher salt
1. In mixer fitted with a whisk attachment, beat the eggs at medium speed until fluffy and light yellow. Add both sugars. Add the remaining ingredients and mix to combine.
2. Grease an 8-inch square pan with butter or spray. Pour brownie batter into the pan.
3. Put the red velvet cake batter into a pastry bag and pipe ½ inch stripes onto your brownie batter leaving ½ gaps between each stripe. Using a pairing knife or a toothpick, drag into the batter lines creating a woven looking pattern.
4. Bake for 35 minutes or until a toothpick comes out clean.
ROAST CARROTS WITH SALSA VERDE
SERVES 4 COOKS IN 35 MINS DIFFICULTY 3/10
20 mixed baby carrots,
scrubbed clean
1 tbsp olive oil
pinch sea salt
pinch cracked black pepper
for the salsa verde
handful of fresh parsley
handful of fresh chives
handful of fresh basil
3 garlic cloves, minced
3 tbsp capers
3 cocktail gherkins
1 tbsp mustard
3 tbsp olive oil
3 tbsp red wine vinegar
pinch sea salt
pinch cracked black pepper
Preheat your oven to 180°C (350°F).
Place the carrots onto a baking sheet and drizzle over the oil and season with
salt and pepper.
Place the carrots into the oven to roast for 20 minutes.
While the carrots are cooking, add all the salsa verde ingredients to your
blender and blitz until roughly chopped.
When the carrots are cooked, drizzle over lashings of salsa ver de and serve.
Any leftover salsa verde can be stored in an air tight container in the fridge for
up to 5 days.
The easiest way to scrub baby carrots
is to use a scourer under running cold water.