David Gregory On How His Personal Connection with Tony Snow Transcended Politics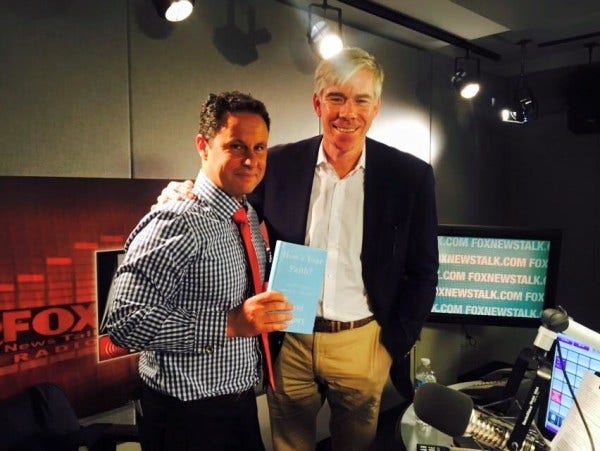 David Gregory, former moderator of NBC's Meet The Press & author of How's Your Faith?: An Unlikely Spiritual Journey, sat down with Brian in the Kilmeade & Friends studio to speak about how his faith has helped him through tough times, leaving NBC, Brian Williams, Chuck Todd replacing him as host of Meet the Press and his special relationship with the late Tony Snow.
Watch here:
Gregory talked about how his relationship with Tony Snow evolved.
"I got to know him when he came in as press secretary and almost right off the bat…he almost wanted to take that on and we had a couple of exchanges. In one case he got pretty aggressive with me as well and later apologized for it, saying he thought that it was uncalled for."
Did you feel an apology was deserved?
"Yes, I thought he was trying to suggest that I had a point of view with the question and I thought that was unfair. I wasn't necessarily expecting it or thinking it was deserved, I was just surprised and I thought it was very gracious on his part to say 'hey I thought about that and thought that it wasn't right'. I think that just began a kind of respect between us."
Gregory explains how he secured the interview with Tony Snow where he talked about his cancer diagnosis.
"I respected how he did the job. You know Tony had been sick before with cancer and had been sick again. I asked if I could do an interview with him and spend time with him during chemo therapy and do an interview with him about having cancer and dealing with the job, about his family, about his will to live, about his faith. It was just a moving experience covering a White House, covering a press secretary and just have that human connection with him. When he left the White House because he was not well, I corresponded with him and you know I think for me this was a time when my own faith journey, about 2007 or so, was deepening. I was doing Bible study more regularly, so I think on a more spiritual level I was connecting to him and developing a relationship with him and just letting him know that I cared about him and was thinking about him. I was so saddened, like many others when I heard he had passed."
Did Chuck Todd reach out after he took over from you on Meet the Press?
"No, I haven't talked to him."
Do you find that odd?
"I don't make any judgment about it."
"How's Your Faith?: An Unlikely Spiritual Journey" is available now