Willie Robertson on 2016: If Jindal Runs, He is My Guy!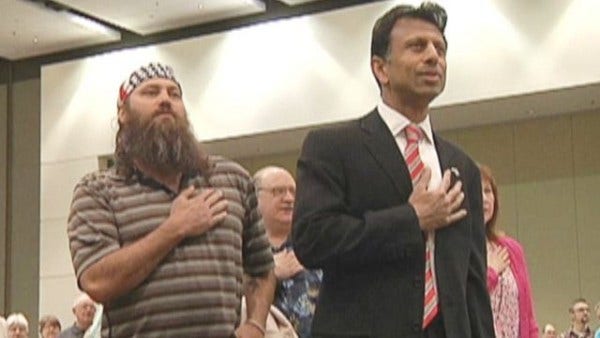 Duck Dynasty's Korie & Willie Robertson joined Brian in studio to talk about why Gov. Bobby Jindal would be their pick for 2016, the Duck Commander Musical and free-range parenting.
Watch here:
On 2016, Willie said if Louisiana Governor Bobby Jindal runs, he is his guy. Willie said he has been close to Gov. Jindal for many years and called him one of the smartest people he has ever met, adding, Gov. Jindal is a Godly man who has the values and intelligence to be president.
The newest big news for the Robertson clan is the opening of Duck Commander Musial at the Rio All-Suite Las Vegas Hotel & Casino on April 15th. Korie & Willie said their family initially resisted the idea of a musical based on their lives but after hearing the original music written for the show, they were hooked. Willie said if the musical is successful they would branch out and bring the Duck Commander Musical all over the world.
Plus: Korie & Willie spoke about the ongoing controversy over free-range parenting. Kori said she wouldn't send her children out on their own at such a young age, but she feels the decision should be left up to the parents and the government should stay out of the way. On the other hand, Willie said he and his brothers were the ultimate free-range children, telling Brian that by the time he was 10 years old he was already driving and was able to use a shot gun.
For more information on the Duck Commander Musical go to duckcommandermusical.com