ALAN DERSHOWITZ: OBAMA HAS MISLED THE AMERICAN PEOPLE & HAS AN OBLIGATION TO ANSWER NETANYAHU'S PROPOSAL INSTEAD OF GETTING INTO THE GUTTER & NAME CALLING + WHAT PELOSI DID WAS DESPICABLE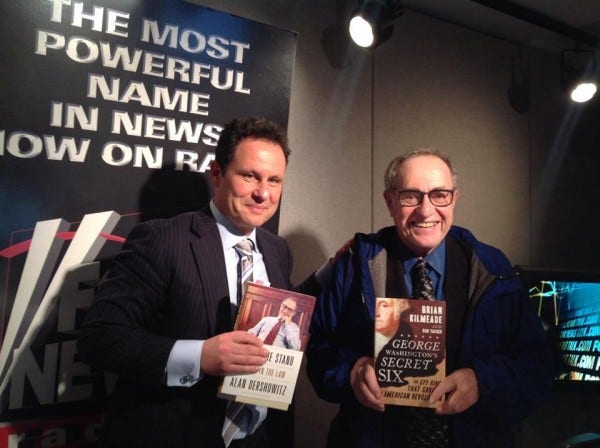 This morning on Kilmeade and Friends, Alan Dershowitz sounded off on President Obama and Minority Leader Pelosi over their behavior regarding Prime Minister Netanyahu. Dershowitz also talked about Hillary Clinton's emails (he doesn't think it is a big deal) and Edward Snowden (he should come home for trial).
ALAN DERSHOWITZ: UNLIKE THE PRESIDENT, I ACTUALLY LISTENED TO WHAT THE PRIME MINISTER HAD TO SAY AND THE PRESIDENT TOTALLY MISLED THE AMERICAN PEOPLE YESTERDAY WHEN HE SAID THERE WAS NO NEW PROPOSAL. THERE WAS A DRAMATIC NEW PROPOSAL, LET ME READ IT TO YOU, ĎIF THE WORLD LEADERS ARE NOT PREPARED TO INSIST THAT IRAN CHANGE ITS BEHAVIOR BEFORE A DEAL IS SIGNED, AT THE VERY LEAST, THEY SHOULD INSIST IRAN CHANGE ITíS BEHAVIOR BEFORE A DEAL EXPIRES.í THIS IS A NEW PROPOSAL. A PROPOSAL THAT THE PRIME MINISTER SAID ISRAEL COULD LIVE WITH EVEN IF THEY DONíT LIKE. NAMELY, BEFORE THE SUNSET PROVISION KICKS IN, BEFORE IRAN IS ALLOWED TO DEVELOP A NUCLEAR BOMB IN TEN YEARS, AT THE VERY LEAST THEY HAVE TO A) RENOUNCE TERRORISM B) STOP INTERFERING WITH OTHER COUNTRIES LIKE SYRIA AND LEBANON AND C) STOP CALLING FOR THE EXTERMINATION OF ISRAEL. THAT IS A NEW PROPOSAL AND THE PRESIDENT OF THE UNITED STATES HAS AN OBLIGATION TO ANSWER THAT PROPOSAL INSTEAD OF GETTING INTO THE GUTTER AND NAME CALLING AND SNIPING AND DOING WHAT NANCY PELOSI DID YESTERDAY WHICH WAS DESPICABLE. TURNING HER BACK ON THE PRIME MINISTER. TURNING HER BACK IN ELIE WEISEL. TURNING HER BACK ON ISRAEL. AND TURNING HER BACK ON LOGIC AND ARGUMENT.