Backstage at SNL; Eli Lake: Obama has to backup his words with actions.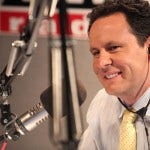 KILMEADE KONDENSED: 09/09/14
Listen here for the Kilmeade Sound Medley of the day
HOUR 1
Senior national security reporter for The Daily Beast ELI LAKE says that it seems that the President has changed his stance and is really going to go after ISIS and will even start to go after them in Syria.  Eli also talked about the President having to back up his words in his speech with actions because words alone don't make a policy.  With the absence of American leadership you only have 2 sides in Syria the Russian backed as Assad government or the radical Islamists, we need to give most people a moderate regime to get behind.
JIM MILLER co-author of "Live From New York: The Complete, Uncensored History of Saturday Night Live as Told by Its Stars, Writers, and Guests" dropped by to talk about the re-release and addition to the 2002 book.  Jim talked about some of the guests and how it can be tough for musical acts to host the show and the political leanings of the show.
HOUR 2
Fox News anchor SHANNON BREAM talk about President Obama's speech tomorrow and why he is supposedly going to ask for 5 billion dollars.  They also talked about how he has to backtrack and say that he has to go back to Iraq and Syria and even though he wants to get us out he has to deal with the realities of the world today.   They also talked about Ray Rice being suspended from the NFL.
Fox News national security correspondent JENNIFER GRIFFIN talks about trying to find out what the President is going to say tomorrow and why he is asking for 5 billion dollars from Congress.  Jennifer says that President Obama is going to have to thread the needle and contradict some of his former statements about not getting involved against ISIS and not have boots on the ground.  The President needs to come clean tomorrow and go with the feelings of the American people and that we must have a strategy.  There is no way that the administration didn't have a strategy one week ago and now they do.  Jennifer also explained that we have to be careful because ISIS has been able to expand and grow because Turkey and Qatar have turned a blind eye and helped them sell oil on the black market to make money.
HOUR 3
"Fox and Friends Weekend" co-host TUCKER CARLSON talked about the President's upcoming speech on our Middle East policy, Ray Rice suspension, the family of Steven Sotloff bashing the administration and more.